WEDDING HALL
The Wedding Hall is located on the 1st floor of the tower at the south-eastern part of the castle, which was built in the middle of the 16th century as a defensive structure with crenels still preserved to this day. The gothic arched ceiling is painted with beautiful flowers, fruits, vine and birds.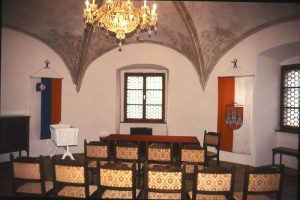 CASTLE GALLERY
The Castle Gallery is located in the most prominent part of the castle, on the 1st floor of its southern wing. It contains five rooms with a total area of just under 300 m2. Each year, the gallery hosts around seven exhibitions by various authors from Slovenia and abroad. The Castle Gallery also hosts various other, theme-based exhibitions.
SOUVENIR SHOP
The Souvenir Shop is attractive not only because of the souvenirs, but also because of its interior design. It contains replicas of furniture which used to be typical for shops in the north-eastern part of Slovenia. The shop sells mainly home-made products from the local area, while also offering other interesting items. All of the products have been certified by the Chamber of Craft and Small Business of Slovenia.